AWDIS hoodies now in stock. Ring or e-mail for details & pricing.
Early specials on sew-on school & club badges / patches still on. Prices from 2.50 euro each.   Click here for more details and pricing.
Contact us for quotes and further details.
New to Celtic Casuals is our range of hurling goods. Made in Cavan, Hughes Hurleys are high quality Irish ash made to our own dimensions for a large sweet spot for a clean strike. All hurleys from 22" to 36" made from single piece of ash with a high level of craft. Bespoke hurleys available; Kilkenny bas style, Cork bas style, goalkeeper's hurleys. Looking for a different bas, size and weight. A large number of hurleys in stock at all times. Genuine match sliotars at 72 euro per dozen. Click either hurling picture above or Click here for details and prices.
Finish the 2017 season with our jackets, tracksuits, wet gear, hoodies, sweatshirts, leisure tops, t-shirts and polo-shirts all in your team colours with your unique crest. We now provide training equipment to suit your club needs at excellent value and in it's own holdall. Don't miss our specials for all Feile na nGael, Feile Peile na nOg and GAA events on our entire range including bags, socks, shorts, tracksuits, jackets, hoodies and polo-shirts in team colours.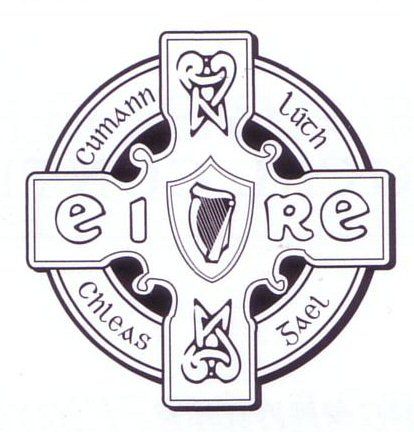 G.A.A., Athletics, Soccer, Boxing, Rugby, Golf, Tug of War, Darts, Shooting, Fishing, Motor Sport, Martial Arts, College / University Teams and all other sports & social clubs catered for.
 Rock / Metal and Motorcycle clubs patches & badges are designed by the people who understand. 
Contact us for full range and prices or call to our factory shop for examples and a discussion on your clothing needs and for the best deals in Ireland. Unique clothing at a reasonable price. 
Celtic Casuals is a company based in Cootehill, Co. Cavan specialising in Irish embroidered Clothing, Sportswear, School Uniforms, Promotional clothing, Leisurewear and Celtic knotwork / Irish themed embroidered crests and badges.  There is twenty years manufacturing and ten years embroidery experience on site.
Our in house Embroidery service provides us with the facility to deliver the garment complete with embroidered crest, to the customer in the most time and cost effective manner. It is our company policy to deliver follow-on orders from one garment upwards at the same rates as the original order. Don't hesitate to contact us with your enquiry, we welcome all orders regardless of size or speciality.
Our manufacturing facility gives us the range to deliver garments in your chosen colours and design without excessive rates for customised goods. It also gives us a unique hands-on approach to the entire process; from design, manufacture, decoration and to final delivery. This ensures a quality product and a reliable service from the owners / operators.
On the Celtic Casuals news front, we have now a range of Celtic knotwork and Irish design clothing. The range shows celtic fashion and leisurewear with new embroidery designs featuring contemporary clothing with a Celtic Twist. These garments and designs are exclusive to Celtic Casuals and are only available through this web site. Range includes Celtic embroidered clothing for all; boys and girls, men and women.  
        Our huge range of garments includes:

T shirts & Polo shirts
Tracksuits & Sweatshirts
Hooded sweatshirts / hoodies
Fleeces and microfleeces
Sports  & Leisure wear 
Rain Jackets
Celtic knotwork designs
Irish themed crests
Promotional Clothing

We also cater for all sports and social clubs and can customise any garment from our Irish sportswear and leisurewear range for your G.A.A., Rugby, Golf or Soccer club. Along with our leisure and fashion sports wear, we also have a full range of training and wet gear available. Simply click on any of the links on the left to view a wide range of our products.

We have a full range of school uniforms and school p.e. gear available. Fleeces, rain jackets, jumpers and polo-shirts which can all be embroidered with your school crest and can be personalised with your name / initials. We can also supply jackets, trousers, skirts, shirts, school badges, scarves and ties to your school or local retail outlet. Contact Maureen at Celtic Casuals for more details on school range and pricing. Order now and we can still deliver for the upcoming school year. Specials now available on St Aidan's Comprehensive and St Michael's N.S. Cootehill P.E. tracksuits and polo-shirts.

Click on Embroidery to view examples of our designs. Included are just some examples of our embroidery work featuring crests from the GAA, Schools, Business, Celtic fc, Celtic knotwork and Irish designs, Music, Fishing, General Sports and Specials Orders.

Click here to view Sports Designs for examples of our embroidery work. If you have a special occasion such as presentation or sports final coming up in your club, we can have your order within the week. We specialise in minority sports and special orders. Our design catalogue features a wide variety of sports and outdoor activities, contact us with your ideas and we will have the design to suit your venture.

Special occasions such as weddings, anniversaries, presentations, birthdays, stag and hen nights all catered for. We also manufacture identity badges and company patches which can be stitched onto company clothing and are re-usable. Simply contact Celtic Casuals to discuss your needs. Click here to view special orders and one-offs.

All our embroidery designs are created using high quality colourfast durable threads which are sewn into the fabric ensuring the design won't fade or diminish unlike some printing methods which may lose quality and structure over time. Embroidered crests also give a greater look of style and elegance to the adorned garment.


To order or further details contact us.

Sales inquiries & General info contact Maureen Hughes by e-mail

Phone  00 353 (0)49 5556468

Mobile: 00 353 (0)87 2560759

Crest Design, Logo e-mail and creative advice contact Séamus Hughes

E-mail: info@celticcasuals.com